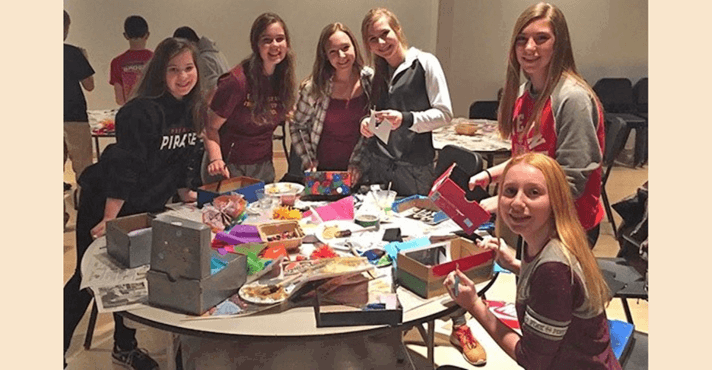 Group Programming 
Latino Arts is excited to offer a variety of both in-person and virtual programming for schools and groups! Our goal remains to help bring cultural arts and education to your students and groups in a unique, interactive, and accessible way!
Please fill out our Group Registration Form at the bottom of this page to reserve your spot for any of the following activities. Upon receipt of this information, our Programs Coordinator will reach out regarding scheduling, payment, and next steps. To help manage requests, please complete the form as thoroughly as possible. Thank you!
Group Gallery Tours
Click the image below to view dates and details!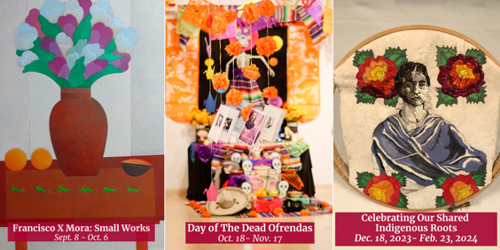 Schedule a group gallery tour! Admission is $1 per individual. Advance reservations for group tours are required.
Matinee Concerts
Matinee concerts are 60 minutes long with a Q & A session with the band. Group pricing for Student Groups of 10+ is available for this performance. Click the image above to view dates and details!
Student Workshops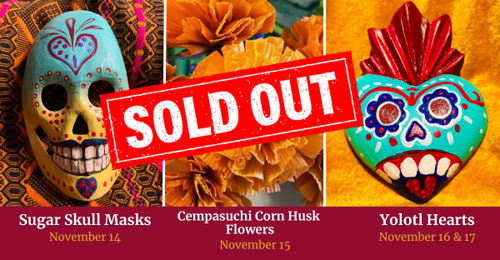 Our Fall Workshops are SOLD OUT. Please check back in December when we release our Spring Group Programming Workshops!
Virtual Loteria with Latino Arts, Inc.!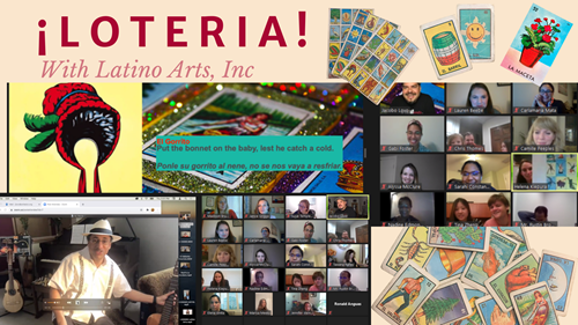 CLICK HERE TO REGISTER AND LEARN MORE ABOUT VIRTUAL LOTERIA!
Add a gallery tour and lunch at cafe el sol to your experience!
To add a gallery tour and lunch to your experience, simply select the gallery exhibit you'd like to view and lunch at Cafe El Sol on the form below in addition to any other offering. 
Gallery Tours: Admission is a suggested minimum donation of $1.00
Group Lunch (10+) at Cafe El Sol: $8.95 per person
REGISTER HERE:
Please fill out ALL fields indicated on the registration form.
Registrations are not confirmed until a member of the Latino Arts Staff contacts you and payment is received.
Additional Virtual Student Workshops
Virtual Cultural Arts Lessons and Gallery Exhibits


Available: Ongoing
Cost: FREE
Description:
Looking for more activities for your students? Access our complete Virtual Library of online content featuring two main approaches:
1) Virtual Art Tutorials 



Using a variety of Mediums and easy to find household items, join Latino Arts Managing Artistic Director, Jacobo Lovo, as he shares unique and simple art tutorials that cover a wide range of unique cultural artistic mediums. He will share how to do the project on your own, as well as discuss the cultural and artistic context behind the tutorial. These Virtual Art Tutorials are a fun and easy assignment for students to complete and share their finished product with the class via an online class segment.
2) LIVE Draws
Recorded this spring, this library of LIVE draws with Latino Arts focuses on the art of drawing, covering a variety of cultural topics and subjects. Less that 60 minutes each, these step-by-step sessions will involve a drawing lesson mixed with more cultural context on the subject matter from our Managing Artistic Director, Jacobo Lovo.
All tutorials can be accessed on our YouTube Page! Tutorial topics include, Flowers of Latin America, Alebrijes, Surrealism and Frida Kahlo and More!
3) Virtual Art Gallery Exhibits
Missed the exhibit in person? Check out our virtual interactive gallery space!
Familias Unidas: Tributo a la Lucha de los Trabajadores Migrantes en Wisconsin 1960S -1970S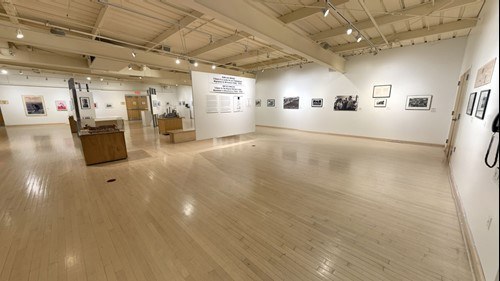 Renaldo Hernandez: 50 Years of Art and Cultural Diversity
Los Hijos de La Tierra/ Children of the Earth by Juan Flores