Who We Are
Latino Arts, Inc. is a 501(c)(3) dedicated to bringing cultural awareness, artistic educational experiences, and high-quality programming to the Greater Milwaukee and southeastern Wisconsin community, as well as to a global audience through our virtual programming featuring Hispanic artists from throughout the world. Latino Arts is located in the heart of Milwaukee near the south side, a vibrant neighborhood that is home to many of the metropolitan area's more than 100,000 Hispanic residents.
As the only Wisconsin fine arts institution dedicated exclusively to showcasing the works of Hispanic and Latino artists, Latino Arts, Inc. provides high-quality low-cost, and accessible arts programming. Latino Arts is committed to reaching beyond its south side Milwaukee neighborhood to share the rich cultural heritage of the Hispanic community with a diverse, global audience.
Our Mission
The mission of Latino Arts is:
• To strengthen and preserve the cultural heritage of the diverse Hispanic community in Milwaukee and
Wisconsin.
• To increase cultural awareness and diversity by offering performances, exhibits, and education in the areas of music, visual arts, dance, and literature to the greater Milwaukee community.

Meet our Managing Artistic Director, Jacobo Lovo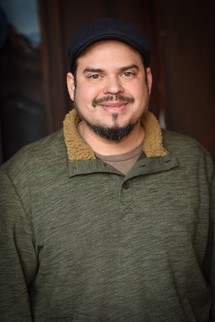 As the Managing Artistic Director of Latino Arts, Inc., Jacobo leads the organization while developing community-focused educational and cultural programming. He also advocates for the arts through collaborations with other arts organizations. 
Jacobo believes in the positive impact the arts have on our quality of life and strongly believes the arts play a crucial role in strengthening Milwaukee's economic vitality and competitiveness in developing and attracting talent locally, nationally, and internationally.
Prior to his role at Latino Arts, Jacobo spent 16 years as an art educator for Latino Arts' sister-organization United Community Center.

The Latino Arts facilities include:
The Latino Arts Auditorium, a 350-seat multi-purpose auditorium
The Latino Arts Gallery, a modern 3,000 square-foot art gallery
The Hispanic Heritage Center, a permanent multi-media exhibition chronicling the history of the Latino community in Milwaukee. Check out our detailed and compelling docu-video series on Hispanic Heritage Center highlights HERE!
Fully accessible auditorium, art gallery, entrances, seating, and restrooms
Our History
Established in 1986, our history is one of connection and inspiration to Milwaukee's south-side Hispanic neighborhood and beyond. We have proudly curated and hosted acclaimed performing Latino artists, captivating cultural art exhibitions and educational opportunities, ensuring community members of all backgrounds feel welcome at our events and helping to build bridges between a diverse community.
in the news
View our Fall 2023 Digital Brochure by clicking the image below!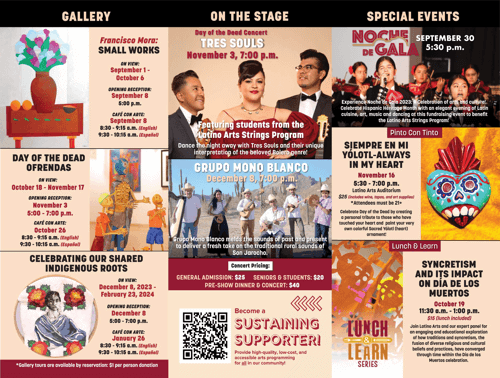 Meet the Board
Raúl Galván, Ph.D. - Board Chair| Community Volunteer
Ms. Maria López Vento - Board Vice-Chair| Bader Philanthropies
Ms. Laura Gutiérrez - Board Treasurer | United Community Center
Atty. Danielle Machata - Board Secretary |Godfrey & Kahn

Ms. Marlene Castillo | Johnson Bank
Ms. Maira Gavioli | Harley-Davidson Motor Company
Ms. Gladys Manzanet | Northwestern Mutual
Dr. Laura Matthew, Ph.D. | Associate Professor, Dept. of History, Marquette University
Mr. Polo Paredes | Rockwell Automation
Atty. Michael Reyes | Flores & Reyes Law Offices
Ms. Marsha Sehler | Community Volunteer
Mr. David Westrup | Von Briesen & Roper, s.c
Thank you to all our sponsors.