Dinorah Márquez | Director, Latino Arts Strings Program & Mariachi Juvenil; Violin/Viola Instructor
Dinorah Márquez was born in Mexico City. At the age of 10,
she immigrated with her family to El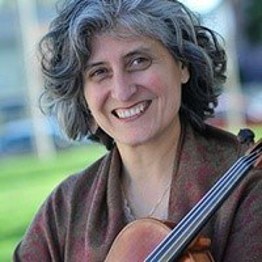 Paso, Texas, where she began her musical studies with violinists James Angerstein and Abraham Chavez. Marquez completed her undergraduate studies in American Studies, at Northwestern University, with a minor in International Studies at the University of Florence, Italy. She later worked as Assistant Press Secretary for Mayor Harold Washington in the City of Chicago. After several years, she returned to her musical activities both in the U.S. and Mexico, where she was a guest performer with the Filarmónica del Bajío in Guanajuato, the Orquesta de Mexico in Mexico City, and the Camerata del Estado de Veracruz.
Marquez founded an ethnomusicology project, which continues to this day. It focuses on the preservation of indigenous violin traditions in Xico, Veracruz, Mexico. She received a master's degree in Viola Performance and String Pedagogy from the University of Wisconsin-Milwaukee. She also received a Certificate in Chamber Music from the Leonard Sorkin International Institute of Chamber Music where she studied with the members of the Fine Arts Quartet.
Upon graduation, Marquez established the national award winning Latino Arts Strings Program (LASP). The LASP has given her the opportunity to provide immigrant Latino children with the type of musical training she received as an immigrant child. Learn more about the awards and recognition received by Marquez and the LASP.TrisCha Loebl | Cello & Piano Instructor

TrisCha Loebl | Cello & Piano Instructor
Trischa Loebl holds a Bachelor of Music degree in Cello and Piano Performance from the University of Wisconsin-Madison, and a Master of Music degree from Northwestern University. Her principal cello teachers are Parry Karp, Alan Harris, and Uri Vardi. Loebl has been with the LASP as cello instructor since 2006. Dhe had previously taught at the String Academy of Wisconsin at UW-Milwaukee for 16 years. Her students have won many competitions and have played as concerto soloists and recital soloists, including at the Racine Symphony Solo Competition and the Wisconsin Cello Society Solo Competition. An active performer, Loebl plays in the Milwaukee Ballet Orchestra, Bel Canto Chamber Orchestra, and sits as principal cello of the Waukesha Symphony. In 2014, Loebl was awarded the "Excellence in Youth Music Education" award by the Civic Music Association.
Alberto Cardenas | Folk Guitars, Vihuela, & Guitarron
Alberto Cardenas was born in Zamora, Michoacán, Mexico. Cardenas comes from a family of musicians, his grandfather was a band leader and his mother and aunts had a group known as "Las Hermanitas." He began his guitar studies at the age of 12 and studied with Cadena y Duarte and with Roberto Martinez. He began a Mexican musical ensemble known as a "Rondalla" in 1976, and in 1979 he entered the Music Conservatory Las Rosas in Morelia, Michoacán. After a few years he began to work with the Mexican trio genre and in 1989 he moved to Los Angeles where he studied flamenco guitar with Cornelio Ramos, and participated in various musical groups in East L.A. In 1992, he moved to Milwaukee and began working with the Mariachi genre. Since 1994, he has directed various ensembles, including, Raíces Mexicanas, Mi Tierra, Trío México, and Trío Alma Latina. Currently he directs and performs with Voces y Cuerdas de Mexico, a quartet that includes violin, vihuela, guitar, and guitarron.
Jone Alan Ruiz | Classical Guitar
Jone Ruiz was born in Puerto Rico and began his studies in the Interamerican University where he holds a bachelor's degree in classical guitar and studied with the distinguished classical guitarist Linda Chellouf. In 2010 he participated in a national interchange program through the Complutense University in Madrid where he had the opportunity to take classes in music education and private guitar lessons with Professor Demetrio Ballesteros in Ajofrin, Toledo. He has also studied in master classes with some of the world's leading guitarist including, Jorge Caballero, Ana Vidovic, Martha Masters, Thomas Kirchhoff, Adam Holzman, Jose Antonio Escobar, Valerie Hartzell, Berta Rojas, and Steve Lin, among many others. He has performed nationally and has participated in different festivals and competitions around the United States. Ruiz received a master's degree at the University of Wisconsin-Milwaukee, where he studied with world renowned guitarist, Rene Izquierdo.

Alonso Ibarra | Violin/Viola Instructor
Alonso Ibarra and his family moved from Mexico City to Milwaukee when he was five years old, and shortly thereafter he began taking violin lessons, and would later take up viola at the age of 18. Ibarra was a member of the Milwaukee Youth Symphony Orchestra for eight years, and he still continues to be an active chamber and symphony musician with the Falls Baptist Chamber Strings and Symphony Orchestra, who won a performance position at the Mid-West Clinic in Chicago in 2010. Recently, the Chamber Strings have gained national recognition as the chamber ensemble for Governor Scott Walker, having performed several times at his executive residence and at his 2014 inauguration in Madison, Wisconsin. In the summer of 2013, Ibarra was part of the music promotional quartet for his college and gave musical performances throughout the West Coast and in his native Mexico.
Ibarra has been coached by several leading pedagogues and performers including Mimi Zweig, Richard Hynson (Bel Canto Chorus), Sarah Kapustin, among others. He has been actively involved in the community as a violin teacher at Waukesha String Academy and Falls Baptist Music School. His passion is investing in young student's lives in order to see them become confident, compassionate, and community leaders. Currently, he studied violin under Elizabeth Zempel, viola under Jamie Hofman, and conducting under Daniel Van Gelderen.
Megan buschkopf | violin/viola instructor
Megan Buschkopf began her violin studies at the String Academy of Wisconsin as a student of Susan Dominguez and Elizabeth Pabon. She continued her studies at the University of Wisconsin-Milwaukee under the guidance of Dr. Myron Kartman and Dr. Bernard Zinck, earning a Bachelor's degree in Violin Performance and Master's degrees in String Pedagogy as well as Chamber Music Performance. During her time as a graduate student, she performed extensively as a member of the Leonard Sorkin International Institute of Chamber Music, receiving coaching and instruction from the faculty of the Peck School of the Arts. During this time, Ms. Buschkopf was also given the opportunity to work closely with the esteemed Arianna String Quartet. Ms. Buschkopf currently performs with the Riso Quartet and has served as a faculty member of the String Academy of Wisconsin and Alverno College. She currently teaches students through Latino Arts String Program and Wisconsin String Studio.
LIZBETH VALLEJO | viola instructor
Lizbeth Vallejo is a 2017 graduate of the Latino Arts Strings Program, where she started playing the viola fifteen years ago at the age of seven with Gretchen Riemenschneider and Dinorah Marquez. Throughout her musical career, she has studied at the Wisconsin Conservatory of Music, participating in the Milwaukee Youth Symphony Orchestra, State Honors Orchestra, as well as the Sheboygan Symphony Orchestra. Today, she sits as section leader for the UWM Symphony Orchestra, and performs with her chamber group around the city.
Apart from her classical studies, Lizbeth performs regularly with Mariachi Monarcas de Milwaukee as a violinist and vocalist. Lizbeth's love for mariachi began during her time as a student with the Latino Arts Strings Program almost twelve years ago. She has been able to share the stage with some of the world's most famous mariachis, and it is one of her dreams to play mariachi music professionally. 
She currently studies viola performance at the University of Wisconsin-Milwaukee, working with Professor Claudia Lasareff-Mironoff and Dr. Bernard Zinck. Come Fall 2022, she will begin her Master's Degree in String Pedagogy. Lizbeth loves teaching at the Latino Arts Strings Program. She always looked up to her teachers, and can only hope to continue passing along the gift of music for generations to come.
Manuel landin | violin instructor
Manuel Landin Lopez was born in Tijuana, Baja California, Mexico. He holds a Bachelor of Fine Arts in Violin Performance from the University of Wisconsin-Milwaukee studying under Dr. Bernard Zinck. At the age of 6, Manuel began his musical studies at the Latino Arts Strings Program based in Milwaukee, Wisconsin. There he received private instruction with the program's director, Dinorah Marquez, learning both mariachi and classical music. Manuel continued his education at Marquette University High School studying violin with Jerome Franke, former Concertmaster Emeritus of the Milwaukee Symphony Orchestra. Currently, he performs in various ensembles varying in genre throughout the Milwaukee area including Mariachi Monarcas de Milwaukee, Racine Symphony, liturgical services, and as a pit musician in multiple musicals. Manuel teaches at MYSO Progressions and is excited to start teaching at the Latino Arts String Program.
Manuel rodriguez| classical guitar
Manuel has been passionately teaching for more than a decade. He has experience teaching all ages ranging from first graders to retirees, in group settings and individually. He teaches for the Latino Arts Strings Program and Brass Bell Music Store in Milwaukee, and has taught at Maranatha Baptist University in Watertown. From 2020-2022 he was the director of the guitar program at Eastwood High School in El Paso, Texas, with an average of 140 students. Throughout his career he has conducted numerous student ensembles and appeared as the guest conductor for the 2022 Ysleta ISD Honors Guitar Concert composed of students from different institutions within the district. Additionally, he has taught technique workshops, summer intensive courses, held music summer camps, and judged in local competitions. He became a Texas Education Agency (TEA) Certified teacher in 2021 and has a Bachelors  of Arts in Music degree from Texas A&M University and a Master of Music in Guitar Performance degree from The University of Wisconsin-Milwaukee.
francisco hernandez| classical guitar, folk guitar & vihuela
Francisco Hernández was born in Tepatitlán de Morelos, Jalisco. He moved to the United States at the age of 8. A year later, he started his guitar studies under Alberto Cardenas, with a focus on Latin American music at La Causa Charter School. In 2011, Francisco would join the Latino Arts Strings Program where he formed part of Mariachi Juvenil Latino Arts and would continue with classical guitar studies under Sara d'Ippolito & Naeim Rahmani until he graduated from the program in 2017. 
Simultaneously, Francisco would pick up the vihuela (traditional mariachi) on his own time and would learn from various local and guest artists in addition to dedicating daily hours to learning and developing technique on his own through method books and online media from professional mariachi musicians. His passion for Mariachi music grew such that he decided to initiate and market his own music ensemble as an official business known as Mariachi Monarcas de Milwaukee. Moreover, Francisco's passion for music would further develop through his high school career as he took upon Jazz studies at Marquette University High School under the instruction of Randy Skowronski and also became an integral member of multiple Jazz ensembles at MYSO, including a blues ensemble under the direction of Jason Goldsmith, a Latin Jazz ensemble under the direction of Jeno Somlai and Tony Ayala, and taking jazz guitar instruction under Neil Davis. 
Francisco has devoted the last few years as a volunteer, tutor, intern and instructor for the Latino Arts Strings Program. Throughout that time he graduated with a Bachelor of Science in Computer Engineering from Marquette University as a Burke Scholar and has been directing and performing professionally over the past 5 years for Mariachi Monarcas de Milwaukee, an ensemble that has allowed him to share the stage with world renowned musicians. He dreams of performing Mariachi Music professionally as a long term job.