9th Annual Guitar Festival Concert

Latino Arts, Inc. is thrilled to announce the return of our Annual Guitar Festival Concert in-person at Latino Arts, inc. 
Join us for the Ninth Annual International Guitar Festival Concert presented by the Latino Arts Strings Program. This special performance will highlight winners of the Guitar Festival Competition along with soloist and renowned classical guitarist, Ivan Resendiz.
Concert Tickets are $10 Purchase Here
For information on the youth competition, click here
*In order to keep our audience members safe, masks are required in the Latino Arts Gallery and Auditorium when not eating or drinking. 
Meet Our Featured Soloists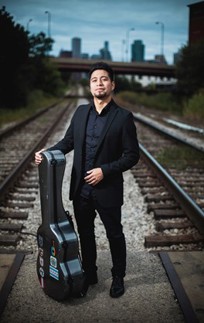 Originally from Mexico City, Ivan Resendiz began his study of classical guitar at age 16 at La Escuela Superior de Musica del Instituto Nacional de Bellas Artes in Mexico with teacher Alejandro Mendez. Mr. Izquierdo has participated in numerous national and International guitar competitions alike, receiving top prizes in more than 13 competitions including South Carolina Guitar Competition and Boston Guitar Fest, to name a few. Ivan has performed in Mexico, France, Spain, Europe and the U.S. in festivals including Musica en Compostela in Santiago de Compostela, Spain and Festival del Museo Nacional del Virreinato in Mexico.
In 2011, Ivan Resendiz founded the First Latin American Guitar Festival in Chicago. The festival offers concerts, workshops and conferences to the Latin American Community in Chicago and continues to achieve its goal of bringing classical music to the immigrant community of Chicago.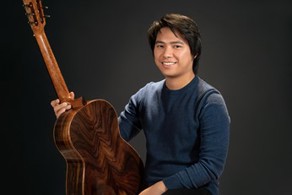 An Tran is an internationally acclaimed Vietnamese Classical Guitarist and a winner of over 12 international competitions and awards. An has has received many accolades for his dynamic artistry including being hailed as a "Vietnamese guitar virtuoso" by Austin Classical Guitar. Deeply connected to his native country of Vietnam, An is bringing the traditional music of Vietnam to international concert stages. His debut solo album entitled "Stay, My Beloved" featuring all Vietnamese classical guitar music was included in the "Recordings of the Year" by Chicago Tribune and was described by Classical Guitar Magazine as one of "Top Ten favorite albums of 2020". An studied at the Vietnam National Academy of Music, North Park University, Yale University and Northwestern University. He has been on the faculty of Northern Illinois University since 2020 where he started the NIU International Classical Guitar Series. An Tran is a board member of Chicago Classical Guitar Society and the Artistic Director of Chicago Artopia.