Hyphenated Americans Featuring the Artists and Friends of LUNA

his powerful exhibit, curated by LUNA co-founder Katie Avila Loughmiller, composed of artists and friends of LUNA (Latinas Unidas en las Artes), explores what it means to be Latinx in the United States. Each piece is a personal representation of identity and culture through the eyes of the artist, demonstrating that there is no one-size fits all description for the Latinx population. The exhibit faces the struggle and balance between finding camaraderie and community in the similarities between different Latinx cultures, and the fight against unique identities within the Latinx culture that are being erased.
View the Virtual Gallery HERE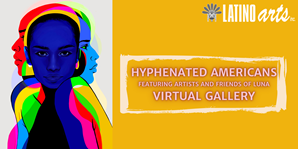 Reviews are in!
"I loved this exhibit showcasing the strong, passionate, talented female artists in our community!" - Christine
"I love this exhibit because it explains how art can heal on both a personal and communal level; to be able to identify with others through artistic expression." - Aisha
About LUNA Collective:
Latinas Unidas eN las Artes (LUNA) began after an honest conversation between co-founders Katie Avila Loughmiller and Gabriela Riveros. Passionate about increasing Latinx representation in Milwaukee art organizations, they decided to carve out space in this city's art scene. Together they began to build a group of artists that has now become a collective with over 30 members. Since 2017, LUNA has curated a multitude of exhibitions, community events, and elevated the platform for Latinx artists in our community. Most recently LUNA, has been selected into this years Pop-UP MKE program.
This exhibit was supported in part by a grants from the City of Milwaukee Arts Board and the Wisconsin Arts Board with funds from the State of Wisconsin and the National Endowment for the Arts. Thank you to all of our sponsors.